Bravecto is a chewable tablet which provides treatment and prevention of flea infestations for 3 months and treatment and control of all ticks including the paralysis ticks for 4 months, something that no other product can offer.
This is a great option for those of us who just want something to last for as long as possible before having to re-treat.  This way you will only have to treat 4 times each year for full year round protection.
With the weather having been so hot and humid recently, fleas and ticks are thriving and we are seeing lots of clients coming in with this issue.
It can be used in puppies from 8 weeks of age as long as they do not weigh less than 2kgs.  It comes in 5 sizes so it is just a matter of buying the correct size for your dog.
We currently have a great promotion where you receive a really great cooler bag (see pictured below) with the purchase of one pack. (1 x pack = 1 tablet).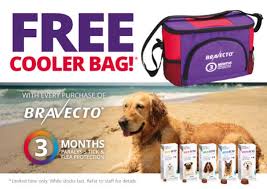 If you purchase 2 packs, you will receive a bonus $20 eftpos card simply by filling in a claim form online.  This is a really great saving on a great product.

Please call in anytime to discuss any of your pet concerns with our friendly and knowledgeable staff.