We would like to let our clients know that there is a great promotion running at the moment if you purchase Advocate.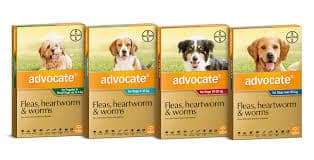 We sell Advocate in either single units or a 6pk.  There is a saving if you buy the 6 pack rather than the singles each month, however the singles are very convenient for many people.
The promotion is that for every 12 Advocate purchased (either 2 x 6pks or 12 singles), you will receive 3 single applications completely free!  Given that each treatment lasts for a full month this is a really great saving.
We will keep a record for you here in a special frequent buyer card by stamping it once for every single unit you purchase.  Once you have 12 stamps, we give you 3 single vials.  It is that easy.
If you need any further information on this product, please feel free to call in anytime and ask our great staff about it.  If you are currently on Advocate just ask our friendly staff to start a card for you when you are next in.
We look forward to seeing you.