We would like to let all the horse owners out there know of a great n product we now have available.
Sand Flush is a natural psyllium husk pellet which helps avoid the accumulation of sand and helps maintain digestive health and prevent colic in horses and ponies.
Sand Flush is highly palatable and easy to administer which will tempt even the fussiest of eaters.
How does it work?
The main ingredient of Sand Flush is psyllium husk.
Psyllium husk is derived from the seed of the plant, plantago ovata.
Psyllium husk is a highly soluble fibre which allows it to absorb a large amount of water in the gastrointestinal system.
As sand flush pellets absorb water in the intestines a soft, sticky gel is formed
As the psyllium gel moves through the intestines, it will pick up sand which will then pass out in the manure
Just feed Sand Flush for 5 days every month to help prevent the accumulation of sand in your horse
CHECK OUT THIS PHOTO OF WHAT HAPPENS WHEN WATER IS COMBINED TO SAND FLUSH:

For more detailed information about this product go to this link:  http://www.sandflush.com.au/home.html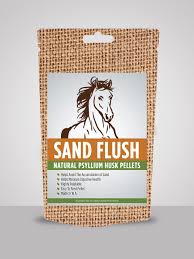 We have this product available in the 650gm and 1.2kg sizes.  Please call in anytime to ask our friendly and knowledgeable staff about this great product.