Would you like to have the peace of mind of knowing your dog is protected against heartworm without having to ever give monthly or daily tablets again?
Unfortunately there has been a resurgence of cases of Heartworm positive cases in the past two years.  In fact there have been more than 490 heartworm positive cases reported around Australia since January 2014.  Heartworm is contracted through the bite of an infected mosquito and therefore impossible to guard against without a preventative.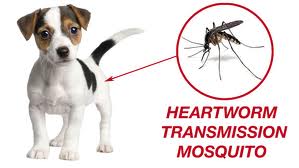 Puppies can be  started on Proheart Sr12 prevention as early as 3 months, however for those dogs who are a minimum of 6 months of age who have never used a heartworm preventative, or have not regularly used one, it is very important to have a heartworm test prior to commencing Proheart Sr12.
Normally this test costs $60.00 but we have a great offer which is currently running for 8 weeks.  The ending  date of this offer will be 4 July.  For anyone wishing to book in their pet for a Proheart Sr12 injection, we are offering the heartworm test completely free.
The manufacturer of the Proheart injection, Zoetis, has recently conducted research into heartworm prevalence in dogs and it found that 40% of dogs that recently tested heartworm positive were on owner-given monthly treatments.  Have you ever missed a dose?  When you lead a busy life, some things fall through the gaps.  Failing to give dogs heartworm prevention on time can leave them at risk from this deadly disease.  That's why we reommend testing and year-round heartworm prevention.
If you would like any more information on this offer, please just phone us and our friendly staff will be able to help you.
IF YOU WOULD LIKE TO TAKE THE OPPORTUNITY  TO HAVE YOUR DOG TESTED FOR HEARTWORM, PLEASE PHONE US BEFORE 4 JULY TO MAKE A BOOKING.