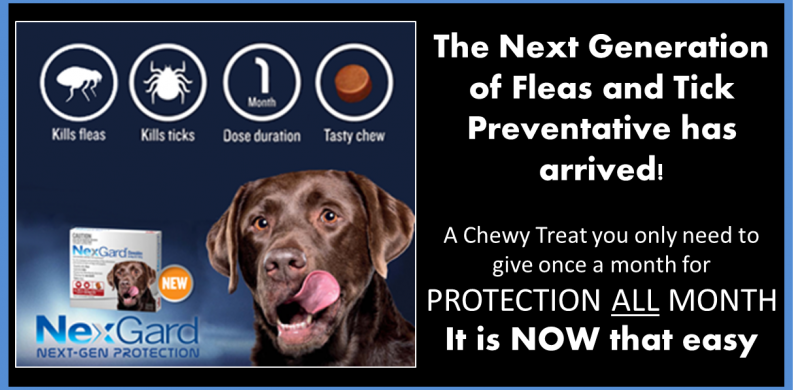 All the team are hoping everyone had a very Merry Christmas and wish you all the very best for the new year.  With the new year has come a new product for fleas and ticks.
NexGard is the first of its kind.  The chewable tablet is said to be the most palatable tablet, making administration easier.  NexGard also offers not only one month protection from fleas, but from all of the ticks; Brown Dog, Bush and Paralysis ticks.  This makes it the only preventative on the market apart from tick collars that offer this sort of protection.
One of the many benefits of the chewable tablet is that it can be given to puppies as young as eight weeks old.  NexGard can also be given on either an empty or full stomach and statistics have shown dogs are three times less likely to vomit on this product compared to Comfortis (which also has a miniscule percentage of dogs that vomit).  Another benefit of the chewable tablet is that because it is an oral prevention, there is no need to worry about your dog swimming or bathing.
The chewable tablets can be bought singly for your convenience or in a 3pack and 6pack.  We hope to see you soon to try this new product and can't wait for your feedback!
We hope 2015 is a happy and safe year for you and your pets.