We have a great promotion at the moment for our customers who may be looking to buy a flea and tick preventative.  Nexgard is a chewable tablet which treats dogs for fleas and ticks (including the paralysis tick) for one month.  Call in anytime to see our friendly and knowledgeable staff about this great product.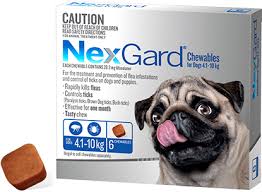 KILLS FLEAS AND TICKS:
NexGard® is the first oral product that kills fleas, deadly Paralysis ticks, Brown Dog ticks, and Bush ticks on dogs for a full month.
ONCE A MONTH TREATMENT:
No more complicated treatments or confusing instructions – just one chew, once a month for year-round protection from fleas and ticks.
A SIMPLE, TASTY CHEW:
NexGard® is the first flea and tick treatment that comes as a tasty, beef-flavoured chew. The oral format also means no restrictions on swimming or bathing after treatment.