NexGard Spectra Promo
For those of you looking for a great all round treatment which covers all your dog's needs, NexGard Spectra is the best available, and at the moment we are running a fantastic promotion on this product. (while stock lasts)
For our clients who are already using NexGard Spectra, this is a great  time to buy as you will save lots of $$$$.  For those of you looking for a simple, effective monthly chew this is a great opportunity to start your furry friend on this product.
Simply purchase 3 months of protection for your pet and receive a months treatment for FREE! 
Another option is to buy a 6 month protection pack of Nexgard Spectra and we will gift you 2 months FREE! 
NexGard SPECTRA is the most complete parasite protection, all in one tasty chew
Rapidly kills fleas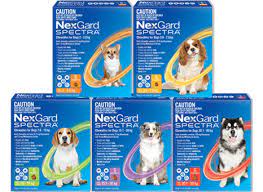 Treats and controls ticks
Treats and controls mange and mites
Prevents heartworm disease
Treats and controls roundworm, hookworm and whipworm
Prevents flea tapeworm infestations
Tasty monthly chew that dogs love
Protection from 8 weeks of age and 2 kg bodyweight
Call in to our surgery any time to discuss your pet's needs with our friendly and knowledgeable staff.
From the team at North Bundaberg Vet Surgery